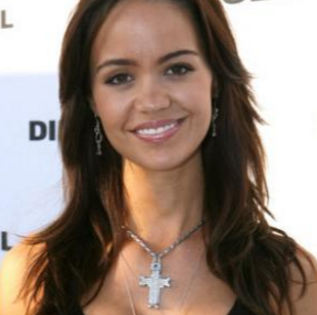 April Ann Mcintosh, professionally known as April Scott, was born in small town Missouri on January 29th, 1979. She is of French, Spanish, and Native American ancestry. Scott became known in high school for her participation in beauty pageants. She won numerous pageant titles during this time. After graduating high school, she enrolled as a theater major College of the Ozarks, a private Christian college. She graduated as valedictorian from of her college class, and moved to Los Angeles to begin her career.
After moving to L.A., she was encouraged to audition for model work as well as acting. She found success in the modeling industry, as she is works for the Merle Norman cosmetics line, and has also done campaigns for Dreamgirl Lingerie. She has been featured on the cover of numerous magazines, including Maxim Magazine (December 2007), People Magazine (April 2008), Fitness RX (September 2006), and Women's World Magazine (March 2011). She has also been on billboards for Coors Light and Bud Light.
Scott also garnered several acting jobs, appearing on the television shows Deal or No Deal, It's Always Sunny, The Shield, Entourage, and CSI: Miami. Currently, she is the host of a television show called Model Turned Superstar. In 2007, she replaced Jessica Simpson as Daisy Duke in the film The Dukes of Hazzard: The Beginning. Scott has also acted for the films The Penthouse (2010), Living Will (2011), and Angel Investors (2014). Her most recent film project was For Blood (2015), which won best short film at the San Diego Film Festival.
Scott has many health certifications, including ones for Mixed Martial Arts Conditioning, personal training, Personal Fitness Chef, Holistic Life Coach, and a Kids Nutrition Specialist. She was selected in 2014 to be a Gold Ambassador for the Get America Fit Foundation, a non-profit charity that provides equipment and education to schools and communities around the United States.